Important messages after Hurricane Harvey
Recycling is suspended until further notice
Heavy Trash and Tree debris collection is suspended until further notice. (Read the updates below for more details)
---

Houston, Texas, August 30, 2017: To address the collection of disaster debris created by Hurricane Harvey, the Solid Waste Management Department will be temporarily changing the City's normal collection schedule. Neighborhood depositories will be open 7-days a week from 10 a.m. - 7 p.m. until further notice.
STORM DEBRIS COLLECTION:
Storm debris will be collected on an ongoing basis until further notice. Please place debris at the curb separated into the following piles:
Vegetative Debris – leaves, logs, plants, tree branches (do not bag).
Construction & Demolition Debris – carpet, drywall, furniture, lumber, mattresses.
Appliances & White Goods – dishwashers, freezers, refrigerators, stoves, washers, water heaters
Electronics – computers, radios, stereos, televisions, other devices with a cord.
Household Hazardous Waste – cleaning supplies, batteries, lawn chemical, oils, oil-based paints, stains and pesticide
NEIGHBORHOOD DEPOSITORY LOCATIONS
No household garbage, electronics or household hazardous waste is accepted.
Customers must provide the following at the Neighborhood Depository Locations*:
A current Texas Driver's license or State Issued I.D.
A current utility bill or city property tax receipt
* Addresses and names on all presented documents must match and electronic records are NOT accepted. No proof of residency is required for recycling only.
Normal collection services will resume on the schedule as follows:
GARBAGE COLLECTION SCHEDULE
Monday, September 4, 2017 - no collection for Labor Day
Tuesday, September 5, 2017 - Monday's garbage will be collected
Wednesday, September 6, 2017 - Tuesday's garbage will be collected
Thursday, September 7, 2017 - normal garbage schedule resumes
RECYCLING COLLECTION
Curbside single stream recycling collection will be suspended until further notice. Customers may bring recyclables to neighborhood depository locations or the Westpark Recycling Center located at 5900 Westpark, Mon.-Sat., 8 a.m. – 5 p.m. Closed Sept. 4 for Labor Day.
YARD, JUNK, AND TREE WASTE COLLECTION
Yard, junk, and tree waste collections will be suspended until further notice due to the need of extra personnel for debris collection related to disaster recovery.
For more information, visit www.houstonsolidwaste.org or call 3-1-1.
 
---
9/14/17: WASTE WATER TREATMENT PLANTS ARE UP AND RUNNING !
September 14, 2017 Update:
As of 1:30 P.M. today, both the Turkey Creek and the West District wastewater treatment plants will be back on line and operating at full capacity.
Public Works & Engineering employees worked around the clock since the flood waters receded to get these plants back up and working.  To them, we give a huge District G THANKS.
We would also like to thank those residents and businesses who heeded the request to limit wastewater discharges over the last two weeks.  This request is rescinded as of 1:30 P.M. today, and you are free to go back to normal use of your dishwasher, washing machine, showers, and toilets. 
These are photos of the plants when under water.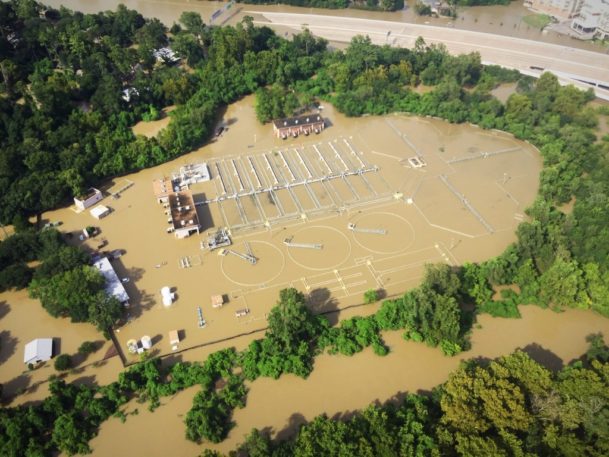 West District Wastewater Treatment Plant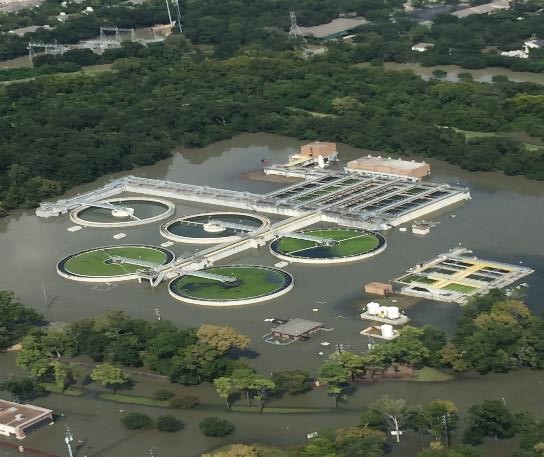 Turkey Creek Wastewater Treatment Plant (as of Sept. 5, 2017)